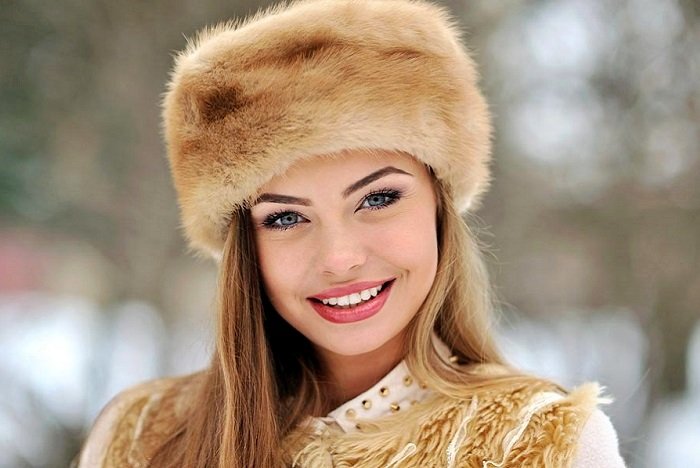 There's a Russian joke dating back to the times of USSR collapse: A man is leaving USSR after its collapse with his talking parrot to immigrate to America. In the customs control, the parrot is discovered and the customs clerks tell the man live animals aren't allowed across the national border. "To be allowed out of the country the bird can only be stuffed or frozen," informs the clerk. "Whether stuffed or frozen, but I am leaving!" yells the parrot from his cage in response.
Former USSR economy of the 90ies was a total disaster, the government announced currency default, people lost all their life savings, jobs were almost non-existent and everyone tried to leave at any cost. Slavic women married anyone from the West just to get better prospects for the future and were ready to be a faithful wife to a foreign man of any age and any financial status, as long as he would treat her right, but that only lasted for a few years.
Many International Dating Agencies still claim on their websites that ANY Russian lady will marry ANY Western man who proposes to her, his looks, place of residence, age and education don't matter at all! Hence, many westerners come with unrealistic expectations that even if he's a farmer in a most remote Texan countryside he can still choose a most gorgeous photo-model looking girl from one of the bigger cities of Russia or Ukraine and she will just jump into his travel bag with a crazy desire to leave her country to be with him "whether stuffed or frozen" just like that parrot!
*I had a pretty ridiculous story about 6 years ago when I decided to also register my own profile on one of the sites of an Agency I translated for from time to time. This one man started writing to me and proposed to meet up in "real life" in Ukraine to see where our relationship may go as he was planning to visit. His picture was old and blurry and he never stated his age, he only said he was "older than me but young at heart". So I thought I'd give it a try anyway, for at least we can be good friends, and if things "click" who knows what the future may hold for us? Just like in a regular offline dating process I consider people a "tabula rasa" (Latin for clean blackboard) before I meet them in person and fill up my picture of them with bits and pieces of information about their interests, goals and personality. Only then can I get an idea of the potential of chemistry there. Isn't that just a normal way to look at relationships?
To my surprise the man who came out of the airport looked double the age of his photo (he finally admitted he's 75), was dressed up in sloppy clothing, had a hard time walking because of a knee problem, yet for some reason automatically thought I would fall in love with him at first sight. That was somewhat shocking to me, and of course, I didn't accept his proposal but decided to stay friendly and show him some of my city just as pals.
However, the guy kept thinking I simply HAVE TO marry him. In one of our conversations, he claimed that I should be happy to have an American interested in me since even though I'm older than the age group he's interested in he is (I was 25 at the time) he would still "marry me and save me from becoming an old spinster." (Why would he think I'm at risk of becoming one at all?) One day he also asked me to check the sheets on the bed of the apartment he was renting and let him know if their condition would satisfy the land-lady. His request sounded weird but I still went and checked on the guy's bed. I found the sheets were all covered up with plastic bags and on top of those the man also put some old clothing of his own. Being really surprised I asked the guy what all of that was about. "Oh well, I just have this strict landlady, and had to ask you check the sheets to be sure they are OK in your opinion. The thing is I have a little problem I hope you won't be upset with after we marry. I can't control my urinating when I sleep.." And that man wants to marry a 25-year-old? Isn't that ridiculous?
And because I kept saying "no" to his proposals he wrote me an angry letter saying "had I been serious about marriage I wouldn't mind his age nor his urinating problem nor the fact his apartment in the US smells due to that problem." And that is a real story! I was so annoyed at such arrogance of the man I shortly deleted my profile from the website.
*Another similar story occurred to one of the girls I translated for at one of the dating agencies. A man came to see her and win her heart with a poem he had written especially for her, which said:
"I was once wondering in the forest and saw a deer, but I realized the deer wasn't my destiny so I kept walking;
Then I saw a wild hog, but I realized the hog wasn't my destiny either so I still kept walking;
And then I saw you, Marina! And I realized you are my destiny and above all those, I met before and I propose you to marry me!"
What a compliment for a lady to be compared to a deer and a wild hog, isn't it? 🙂
*One more guy looking for a bride I was translating for asked me as his tour guide to take him to a village out of town. So we went to this recreation area with a traditional Ukrainian restaurant part of which was located on a wooden platform in the middle of a lake with a roof to protect visitors from the rain. Some swallows made a nest under the roof and hatched their fledgelings. For known reasons I warned the man not to sit beneath the birds' nest to which he replied: "he really likes birds so he will." Shortly after a bowl with Ukrainian borsch was brought to the guy and one of the swallows did something birds do – and the poop aimed the bowl with borsch perfectly. Not an event you wish one "Bon appetite" after… However, the guy seemed quite OK with it and after extracting major part of bird poop from the bowl kept eating his meal. I told him he should ask for his dish to be replaced, but he just smiled "Hey, no problem, I took the bird shit out already!" Pretty gross… And that's another man who wants a young pretty Slavic blonde!
*Yet another man that came to date Russian ladies kept forgetting to zip his pants after he used the bathroom and his underwear would often show them. I made a diplomatic comment on it when he did that at a nice restaurant and he all of a sudden stood up right by our table, pulled down his jeans and started adjusting his underwear in front of all visitors showing his striped underpants to everyone in the room! No need to say even as an interpreter I was embarrassed. As a date, I'd go speechless…
It's just like assuming whoever a foreign man is and whatever education level he's got he can order JUST ANY girl from an online catalogue and have her shipped over to his place just like she were a pair of shoes at an Internet store. However, it's pretty insane to think Russia and Ukraine are same now in 2013 as they were in 1993, the epoch of poverty and "mail order brides".
In the past 10 years
The economy had a considerable, even though not a huge growth;
Electricity power cuts were unheard of since 1999;
Most people have enough food and clothes, even if they can't afford luxury lifestyle;
Even if many men still have a relatively low living standard, because of huge gap between the rich and the poor, Russia and Ukraine still have one the highest percentage of millionaires in the world and if a girl is super gorgeous, she will probably end up with one of the rich local men whose language she speaks and who she doesn't need to travel oceans away leaving her family behind to be with;
And no, NOT every Russian man is an alcoholic! Even if the percentage of men drinking heavily is higher than that in many other countries, it's nowhere close to every other man here being drunk or abusive to his wife and kids.
So it's just unrealistic to keep the belief that all these Dating Agencies are still a catalogue of "souls for sale"…
DISCLAIMER:
This article was Published As A Promotion for the Author.  The views expressed here are not necessarily the views of Match Guaranty.To Buy The Full Book, Click The Link Below…
http://www.iwka.net/dating-russian